Note: I used to have these posted on my front page as widget, but I've moved them here. Feel free to repost any information or a link to the entire page found here and feel free to send me any updated information on these persons if they have been found or new information comes to light that should be added to these pages as I don't do any ongoing research on these cases so I only see an update when I decide to look them up again to see what has happened with them and I don't do that very often at all as I'm busy doing other things. But please feel free to repost this stuff on your social media and your own websites. Get the word out. The Internet is the new milk-carton but we don't use it as often as we should to find missing people. A lot of people are found safe. I have made PDF files to use a flyers that you can print out for some of these cases when I thought it would be helpful. If you'd like me to add anyone to this list just provide the information by emailing it to me and I'd be happy to do the work for free. As a professional graphic artist it only takes a few minutes for me to do this kind of thing. You can contact me through my email address contact@embscomputerart.com.
"The residents of Watkinsville, 70 miles northeast of Atlanta, are offering $20,000 for information that can help them locate a 17-year-old girl who had vanished for three months.
Julia Mann was last seen on February 20 walking out of her home. Police said that she had her laptop and cellphone on her when she vanished but both devices haven't worked since.
"I mean it's the worst thing in the world," Julia's mom said. "She means everything to us, and I can't stand to think about life without her."
Air and ground search operations had been conducted since Mann's disappearance, but except a footstep detected outside her home, nothing came up with a result: "There's nothing I wouldn't do to find my child," Sheriff Scott Berry said. "And there's nothing I wouldn't do to find Julia Mann."" https://brefnews.com/7883
https://www.nbcnews.com/dateline/family-holding-out-hope-return-missing-teen-julia-mann-who-n1199891
—————–
Basic Info from link https://www.kxnet.com/news/local-news/hunters-asked-to-keep-an-eye-out-for-two-missing-people/ Western South Dakota two people: Larry Genzlinger and Serenity Dennard. Genzlinger was hunting near Deerfield Lake when he went missing on Oct. 1. Serenity Dennard has not been seen since February when she ran away from the Black Hills Children's Home in Rockerville. Anyone with information should contact the Pennington County Sheriff's at number you see on your screen (605) 394-2151.
Good news update on Geoffrey Carr: Found safe February 13th 2019. 32-year-old Geoffrey Carr was located Wednesday morning in Las Vegas. He was found in good health and reunited with his family – From: https://www.ktnv.com/news/north-las-vegas-police-32-year-old-man-reported-missing-endangered & https://news3lv.com/news/local/help-police-find-missing-north-las-vegas-man-who-may-be-in-danger
Michael Kelleher – Information from Caption Above: Age 23, of Southborough, Massachusetts, disappeared following a Celtics game in Boston, MA on March 29, 2017. He was last seen leaving the Boston Garden around 9 p.m. (sown on the top right side). His last ping on his cellphone was at 138 Tremont Street at 9:40 p.m. Wednesday night. His Uber account shows that he was trying to call for a Uber but never got into it. Michael is 6'6″ tall, weights 180 lbs., has brown hair, blue eyes and tattoos on his arms (shown). He was wearing a Celtics jersey, a gray sweatshirt, brown khakis, black sneakers and a gray Celtics hat. If seen, please call 911 or contact the Southborough Police at (508) 485-2147 or the Boston Police at (617) 343-4328 if you have any information that may help locate Michael Kelleher.
http://boston.cbslocal.com/2017/03/31/missing-man-celtics-game-michael-kelleher-td-garden/
___________________
Good News Update: Kelsi Ryan found https://siouxcityjournal.com/news/local/missing-sergeant-bluff-girl-found/article_32cebdb3-dadf-52a6-bb3f-03dba36aa0b1.html & https://siouxcityjournal.com/news/local/sgt-bluff-police-seek-girl-missing-since-monday/article_82b19cf9-70fa-5f68-80ec-97990d99b9fb.html
Bix Elite Detective Services had early information about Kelsi Ryan, a missing person who was later found, so check them out. They seem to be doing good work.
___________________________
The file lillithflyer.pdf is the color version and lillithflyerbw.pdf is the black and white version. Print out these flyers four to a page and cut with scissors and hand them out, door knock distribute, or put them on car windows, etc.
MISSING PERSON – Name: Lillith Abrial Floyd – [the name "Lillith" is normally spelled "Lilith" so I don't know if that was a typo or she just has an abnormal spelling for her name) From: Eagle Mountain, Utah – Age 16 – Sex: Female – Height: 5'3″ – Weight: 125 Pounds – Build: Petite – Eye Color : Blue – Hair Color: Brunette (may have changed) – Race : Caucasian – Missing since: January 15th, 2017. Reposting information gathered on Gab.ai… "From her cousin on Twitter: [screenname withheld for privacy reasons] Background: Went missing Jan 15 with no cell phone or extra items. Her mother for unknown reasons didn't report til yesterday It is believed she left voluntarily with an unknown person, but hasn't been heard from since. No school, social media, anything"
I couldn't find ANYTHING about this case with a search engine so all I have is what I was given initially. No updates or anything.
These are the FLYERS – PRINT OUT – CUT APART – AND PASS OUT! 4 to a PAGE. Cheap to reproduce! Color version and black and white.
Lillith Missing Person Flyer – Color
Lillith Missing Person Flyer – Black and White
______________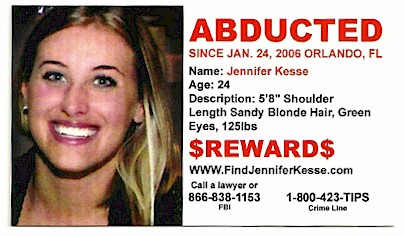 Jennifer Kesse – Missing Since 2006 – For More Information Click These Links http://www.FindJenniferKesse.com
https://en.wikipedia.org/wiki/Disappearance_of_Jennifer_Kesse
If you know of anybody missing and want me to add their photo and information to my page please email me. I'll be setting up a special email for just that purpose soon, but use my regular email on my contact page for now
We should all post missing people's pictures to our websites and facebook pages to find lots of people faster. As we've seen recently a lot of these people are indeed found alive years after their abductions. There's always hope and in any case perhaps justice can be done.
______________