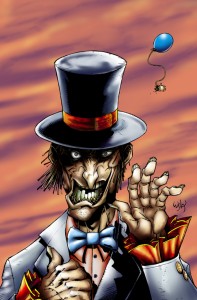 A major portion of my business comes from the production of comic books. I am a flatter and colorist primarily, but can also do lettering and layouts and miscellaneous jobs in the industry including full comic book restorations both of the lineart and color and other 2d and 3d stuff. A flatter prepares the lineart for the colorist by pre-coloring each object with a separate color in order that each object may be easily selected during the shading process. My standard fee for flatting is 15 dollars per page or 30 for double pages, etc. Along with flatting I also do digital coloring, lettering, and inking, but fees for those services vary depending on the difficulty and level of finish required so you'll have to talk to me and show me some samples of what you have drawn to get an idea of pricing for coloring services. You can see my name listed among the credits of TopCow's Witchblade issues 72, 73, 74.
I have worked on various comic books including:
X-Men, Xforce, Spiderman, Superman, Super Boy, Wonder Woman, Lady Death, Judge Dredd vs Aliens, Micronauts, Voltron, Judge Dredd, LeatherJack, Fantastic Four, Tombraider, He-Man, Spookshow, El Cazador, Justice League, Scion, the Gift, Cursed, Mace Griffen, Snake Plisken Chronicles, G.I. Joe., Gara Galaxy, The Flash, Submariner, Human Torch, Silver Surfer, Aya, Boba Fett, Spike, Angel, Batman, Batgirl, Batwing, Black Panther, Omega Men, Lone Ranger, Punisher, Leaving Megalopolis: Surviving Megalopolis, Teen Titans, DC Comics Presents, Sentry, Friday the 13th, Nightmare on Elm Street, Hawkman, Red Sonja, Dread Alive, StepenSegovia, Witches, Transformers, Banzai Girl, Iron Man, Hulk, Dare Devil, Agents of Shield, Black Science, Avengers, Captain America, Thor, Kickass, Green Lantern, Doom War, The Order, Sonic the Hedgehog, Sabrina the Teenage Witch, Sinestro, Buck Rogers, Jungle Girl, Thunderbolts, Red Sonja, DC Universe Rebirth, World's Finest, Trigon, Boy Commandos, Secret Six, Death Stroke, AltHero, Avalon, Planet of the Apes, Hal Jordan and Green Lantern Corps, Aquaman, Detective Comics, All Star Squad, Suicide Squad, Deathstroke, Devil Dinosaur, Conan the Barbarian, The Savage Sword of Conan, etc. You name it, I've probably worked on it. I've worked on comics from every major comic book company and most of the small ones including Marvel, DC, TopCow, Dark Horse, Avatar, Archie, MoonStone, Dreamwave Productions, IDW, ArkHaven, Dynamite, and the now defunct Crossgen, etc.  I also flatted the pages which were colored by Dean White used for the special effects for the KickAss movie and the book Stan Lee's How to Draw Comics and the Marvel Masterworks. I did flats for those covers and I do color restorations for the Marvel and DC Master Works also as well as the restorations for their trade paperback and single issue reprints.
How many pages have I worked on?  Well if I started counting in the year 2002 as of the end of January 2022 I have worked on 10,740‬ comic book pages.  And boy are my arms tired! (To put that into perspective the longest eleven Stephen King novels together are around 9,152 pages together. And since an average comic book has 22 pages I've completed around 488 full comic books and am still going strong finishing multiple books every month.)
The picture above is I colored for a contest for the title "Freakshow" and serves as a demonstration, but other coloring samples can be provided if necessary.